CLICK ON THE INDIVIDUAL TOURNAMENT FOR MORE INFORMATION
If you have an event planned that isn't listed please send it to us via the Contact Us page and we will get it on the Tournament Calendar.

THE GUNTERSVILLE BASSCASHBASH STARTS MARCH 1ST, 2022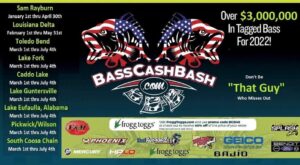 USE DISCOUNT CODE BIGG20 AT FOR AN EXCLUSIVE BassinBigG 20% DISCOUNT
The week's events
Sun

Sunday

Mon

Monday

Tue

Tuesday

Wed

Wednesday

Thu

Thursday

Fri

Friday

Sat

Saturday

December 4, 2022

December 5, 2022

December 6, 2022

December 7, 2022

December 8, 2022

December 9, 2022

December 10, 2022
Disclaimer: We are only as good as the information we are provided and make no warranties regarding the dates, times, etc. If you see tournament information that is incorrect please Contact Us so we can correct.
Copyright © BassinBigG.com 2022